- glad Shawntel is still holding onto that running/jumping into his arms thing. don't hurt him.
-all of a sudden I want to go shopping in Vegas.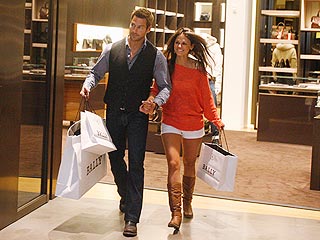 -I can't stop thinking about how she sees dead people.
-how is she all of a sudden someone he can see himself spending the rest of his life with? isn't this their first one on one date? where did she even come from?
-I hate that purse. but I wish I had it anyway.
-brit- what are you wearing? the cap? a white fuzzy robe?
-was it necessary for shawntel to have to get ready in the hotel with everyone else looking on and hating her even more?


-"I really want to take this time to tell him that I stuff dead people."
-I would probably recommend never using the words "orifices" or "vein drain" on a first date. or any date. or at dinner.
-brad: way too many hand gestures. say what you mean. use your words.
-flip-flops and a fendi dress. that's cool I guess.
-what is Brit doing here? how does she keep getting invited to these dates?
-the Ashleys are friends?
-Las Vegas is NOT looking good on Michelle. zits...fuzzy hair.
-Ashley H., please let me fix your eyebrows. I have a license.
-Brit, loving the neon outfits and white KEDS.
-Michelle is crazy.
-not sure if I could love Emily any more at this point.
-"I swear, I'm usually fun!" emily you are darling. I pick you.
-can she even see over the steering wheel? is this safe?
-Alli has the worst attitude. gross.
-"we all have problems, we all have issues" oh, I'm sorry, I didn't realize you lost a spouse.
-bad body language Brad. so glad Emily put him in his place. you are old.
Emily manned up, you need to.
-lots of drinking...a lot of emotional highs...and lows...
-whoa. the L-bomb. gross.
-too bad Brad and Michelle can't have a normal conversation...oh, good makeout instead.
-Ashley H. big forehead. bad hair. bad eyebrows.
-Ashley S. baby voice. really annoying baby voice.
-"I'm always trying to convince someone to be with me." I get that. I do. hits home a little bit.
-the extraordinary wife comment for somebody else hurts a little bit. be sensitive brad.
-Ashley H. did not seem half as sad as Ashley S. said she would..wait. punched. in the face. and in the heart.
-Brit only wears neon. never not wearing neon.
-what intense connection? I don't see it.
-the Elvis "Lonely Tonight" montage is almost as painful as Taylor Swift Pandora radio after a breakup. almost.
-your first instinct may be to close yourself off Brad, but straight to the therapist isn't much better. enough with the life coach.
-I feel bad for giving her this much attention, but Michelle is straight crazy. the lap dance was cool though, and not even trashy.
-dang. cute notes don't work, and get you sent home. note to self.
-team Emily.